Administrative roles at CalX
Administrative Roles at CalX
Administrative roles at CalX play a key role in our daily operations. Across the team we have roles in Sales, Logistics, Quality Control, Finance, Verification Support, and Human Resources.
Our Sales department process quote requests from customers for both calibration services and instrument product sales. This involves generating quotes in-house and from suppliers and issuing invoices upon completion or delivery. They also maintain all sales records and ensures our system is efficient as well as managing and following up on all sales leads.
Our Logistics department deal with all goods handling and maintain all relevant records. This work is coordinated with the Sales department and the Finance Director. Logistics also liaises with the Service Manager and Quality Manager regarding in-house calibrations and ensures third party calibrations are ready for shipping.   
The Quality Control department plays a key role in our business by maintaining Quality Management Systems (QMS) to ensure products always meet applicable requirements and specifications. The Quality Manager conducts internal audits and oversees all activities and tasks needed to maintain a high level of excellence. They also assist with Operations in scheduling our engineers.
The Finance department is overseen by the Finance Director and is responsible for all financial management, financial projections, client accounts, payments and operational finances. They also assist with invoicing and contract costings as and when required.
Verification Support manages enquiries about our verification services from fuel retailers throughout Ireland while also organising and scheduling site visits by our technicians. They issue quotes and invoices for all verification work and ensure all results are uploaded to the NSAI Portal in an efficient manner.
The CalX Human Resources department is responsible for the recruitment and hiring of talent into the organisation, and dealing with all employee related concerns. HR issues employee contracts, organises, and oversees Performance Reviews & Probation Reviews while ensuring all policies are up to date and implemented. They ensure all required staff training is carried out and recorded as appropriate.
XXX discusses their average day at CalX
XXX discusses the important role our in-office team play
XXX discusses the training opportunities for our in-office team
How Roisin became part of the CalX team
I began working part time in Trefoil Controls Ltd in 2016. I worked some Fridays and during the summer months while I was in college studying Early Childhood Care and Education in IT Sligo. My role included general admin duties as well as support to the Accounts Department. I continued this work when Trefoil Controls merged with Eurotech Calibration Services and became CalX.
When the pandemic hit in 2020, I was in my final weeks of college and as it went online, I decided to move back home. In CalX, many of the office staff had to begin to work from home due to health reasons and social distancing measures. Goods Handling was an essential element of the business that could not be carried out at home. When I had the majority of my assignments completed, my manager approached me and asked would I consider covering the Goods Handling temporarily until the person doing it was able to return to the office.
With regular video calls I was trained in the Goods Handling procedures and I began to work more hours.
At this stage, many of my classmates had begun to apply for jobs in the childcare sector or further their studies. With many childcare facilities not opened, I felt it may not be easy to get a job. I also was very content working here in CalX so I didn't feel the urge to start looking for one in my field just yet. I had good relationships with my colleagues and I always felt supported and encouraged by the directors, so I wasn't ready to lose that.
A few months passed of doing Goods Handling along with my usual Friday work, and working one day a week soon turned in to being offered a full-time position in October 2020.
At the end of October 2020, I officially graduated online with a BA Hons in Early Childhood Care and Education. I swore I would not be doing any more college courses as I wanted a break after the previous 4 years. Needless to say that didn't last very long. I completed a course with Clear Customs through Carlow IT in relation to Brexit preparation. I also completed training with our accounting software company.
Since the start of 2021 I have moved away from Goods Handling and I am working as an Accounts Administrator full time. I am also currently halfway through an evening course In Bookkeeping with DIFE. Professional development is always fostered and encouraged in CalX and I have reaped the benefits of this.
I enjoy coming to work every day. No matter how stressful or busy it may get it's guaranteed there will always be laughter. CalX is not your average workplace – there is always a good atmosphere and a bit of fun and many holidays or special occasions are marked in some way even if we cannot all get together for them.
It has nearly been a year since I submitted my last college assignment. If you asked me this time last year where I saw myself in a years' time, I would have said I'd be working in childcare, but I can definitely say I don't regret my decision and I hope to be still working in CalX for years to come.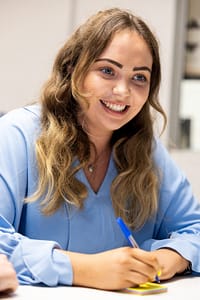 Roisin, a member of the CalX Accounts department.
We're committed to helping you reach your full potential
Personal development is also important for our in-office team as well as our engineering team and we have lots of training opportunities for our employees to learn and progress their careers while working at CalX.
Team members are currently involved in apprenticeships in Sales and Accounting.